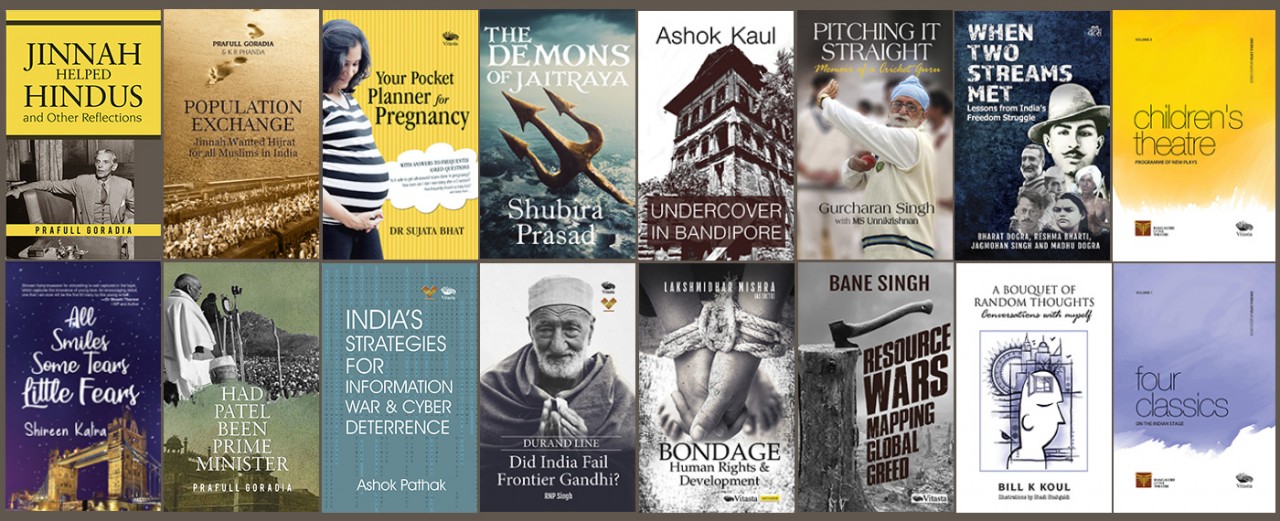 The year 2020 has been all about survival. With zero sales in one quarter and orders barely trickling in the next, it is a wonder we survived at all, especially with the brick-and-mortar stores downing their shutters. Some never to open again. But God has been kind. And of course, the continued support of our readers online kept us going. It has been a tough year, but looking back, there still is a sense of accomplishment. Despite all odds, we did manage to bring out a great collection of books.
In keeping with our vision to identify pressing issues, Lakshmidhar Mishra's 'Bondage Human Rights & Development exposes how bonded labour continues to plague 21st century India. And 'Resource Wars: Mapping Global Greed' by Bane Singh brings to its readers a comprehensive global overview of Earth's assets and a perspective on the fatal exploitation that is creating an irreparable ecological imbalance. While Ashok Pathak's 'India's Strategies For Information War & Cyber Deterrence' emphasises that issues of National Security and Nation Building in this information age are intertwined.
We brought alive a forgotten hero of India's freedom struggle, Khan Abdul Ghaffar Khan in RNP Singh's 'Durand Line: Did India Fail Frontier Gandhi?' And Bharat Dogra's 'When Two Streams Met: Lessons from India's Freedom Struggle' is Vitasta's tribute to all the brave heroes of our freedom struggle without whose sacrifice independence would have remained a dream.
In a first of its kind attempt, Vitasta in association with Bangalore Little Theatre published their most successful English plays in a multi-volume anthology by renowned theatre educator Vijay Padaki - '4 Classics on the Indian Stage', 'The History of Ideas' and 'Children's Theatre: Programme of New Plays'
2020 saw Vitasta encouraging young talents. Seventeen-year-old Shireen Kalra's debut novel 'All Smiles Some Tears Little Fears' is a beautiful story of love and self-discovery that will touch your heart. We also ventured into Indian mythology; Shubira Prasad's 'The Demons of Jaitraya' has received rave reviews. Kashmir, being close to our heart, we published a novel based on the never-ending turmoil in this conflict zone, titled 'Undercover in Bandipore' by Ashok Kaul.
We had three books by former parliamentarian and writer Prafull Goradia that created quite a sensation early this year - 'Had Patel Been Prime Minister', 'Jinnah Helped Hindus and Other Reflections' and 'Population Exchange-Jinnah Wanted Hijrat for Muslims in India'.
Our book on the life story of Gurcharan Singh, once India's national coach, titled 'Pitching It Straight: Memoir of a Cricket Guru' was an instant success. Not to forget, Dr Sujata Bhat's 'Your Pocket planner for Pregnancy' and 'A Bouquet of Random Thoughts-Conversations with myself' by Kashmiri Australian writer, Bill Koul.
2020 may not have been all that we hoped for, and things are far from normal even today. But the New Year brings new hope. So, here's to a fabulous 2021!